🌊 Beachlovedecor's specialization is personalized home decor for beach and ocean lovers – Duvet Covers, Comforters, Wall Tapestries, Throw Pillow Covers (from cotton twill too), Shower Curtains, Bath mats, Towels, Window Curtains, Fleece Blankets, also Tote Bags, Studio Pouches, Art Prints and Abstract Fine Art. Any item in my store can be customizing.
🌊 10% of profits support Beach cleanups and Ocean animals.
—–
🌊 Hello!
🌊 Welcome to BeachLoveDecor! Thank you for visit!
🌊 My name is Elena, I live in California, near Malibu. I am professional photographer, fine artist, happy mom of 14-years old daughter and 2-year old son, PPA (Professional Photographers of America) Member, Certified Interior Decorator (C.I.D.), Photo Awards winner, beachlover and oceanoholic (MORE about me). And I help you to create a beach interior in your house.
Welcome to my BEACH HOUSE DECOR STORE!
🌊 My working mission is to photograph the amazing beauty of ocean and beach for your home decor, help you to create a happy beachy place in your house and help nature.
🌊 In addition to photos, sometimes I draw for myself. So my FINE ART was born from a mix of my favorite techniques – digital photography and liquid painting. Also I love a long exposure and I have a lot of art works in this technique.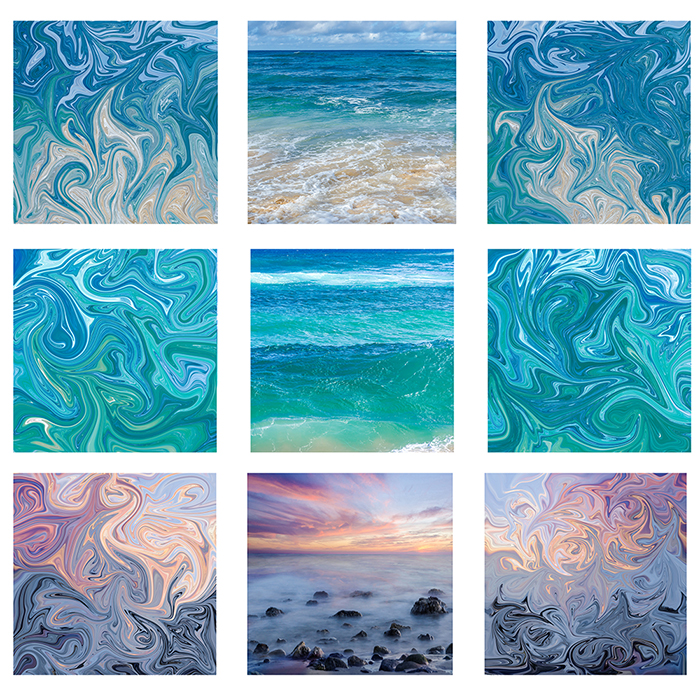 I touch on social and philosophical issues in my works. Check out my Art series –
TWISTS AND TURNS
UNPLUGGED
🌊 I am in love with what I do! You may not always find yourselves on the relaxing tropical beach but my pictures can take you there. My beach art and photography will transform your home into a resort and you can enjoy all harmony, peace and calmness that beach brings into any room in your house, get rest of the stresses of every day life and gather strength. I print my (MY ONLY!!) ocean and beach pictures on high quality fabric home decor – Wall Tapestries, Duvet Covers, Throw Pillow Covers, Shower Curtains, Bath mats, Towels, Comforters, Window Curtains, Fleece Blankets also Tote bag, Studio Pouches and Art Prints…. I am very picky and working with the best suppliers only! All items in my store high quality, reliable and will make you happy for a long time! Please read reviews by my happy customers!
🌊 All my designs are exclusive and one of a kind. Every photo and art is created personally by me. You won't find these designs anywhere else. By my original editing of each photograph, I create a style that's truly my own. But I can adjust colors, contrast, brightness, saturation and direction in order to create the perfect product for you – just let me know.
🌊 I love to work with my customers and make perfect gifts for them – all my items are fully customizable! So please feel free request a custom order – add any date, phrase or name on the your Home Decor and have something special just for you or your lovely person! Just let me know and I will work with you to create a beautiful decor for you only.
You can see some of personalized cases here
Some photos of my items in interiors HERE.
🌊 If you have any questions, need any help, etc, please contact me and I will be happy to help you out.
🌊 I am so happy support a Beach cleanups and Ocean animals by my products! Take a piece of summer into your house and make the world a better place with every purchase in my store!
Thank you for stopping by!
With Love, Elena.
All photographs and art in my store ©Beachlovedecor.
Which room do you want to transform in relaxing beachy place first – BEDROOM, LIVING ROOM or BATHROOM?
🌊 WELCOME! 🌊